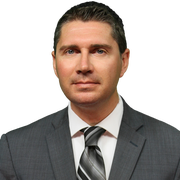 Mike Magnoli is a reporter for FOX 35, covering Brevard County.
Mike graduated cum laude from Marymount Manhattan College in New York City.
Originally from Connecticut, Mike has worked in lots of interesting places, most recently West Palm Beach and southern Palm Beach County as a reporter for WPEC.
His big stories have included Hurricane Michael, the pipe-bomb mailer, President Trump's visits to Florida, the school shootings in Newtown and Parkland.
Mike was recently honored by the Florida Associated Press for 'Breaking News' for his coverage of the shooting at the Fort Lauderdale Airport.
Mike's wife is a News Executive Producer, his dog is a Tibetan terrier named Sandie, and his cat is an all black Maine Coon named Prince.
The latest from Mike Magnoli
Daycares and preschool learning centers have been greatly impacted by the coronavirus pandemic. Many are beginning the reopening plans that will require new safety requirements.
They can't be out shaking hands and hosting fundraisers, so the two men and the woman in the race for Florida House Seat, District 53, are adapting to the coronavirus.
Brevard County is considering adding partitions between desks in classrooms. Other counties around the state have already implemented plans for suck barriers.
There is a new push to investigate the death of a man who was taken into police custody in Brevard County.
A new video from inside Port Canaveral's Terminal 3 shows that the $163 million building is nearly ready to welcome in passengers.
It's a balloon that would bring people up to the top of Earth's atmosphere, where they could enjoy a cocktail while looking at the cosmos.
The mission will launch on July 20th. Then eight months later, it will land on Mars.
Right now, nearly 2 million Floridians are unemployed -- furloughed or laid off -- as the coronavirus crisis has crippled major industries of all types.
While many law enforcement agencies in Central Florida require body cameras for its officers, at least two departments in Brevard County have yet to implement the devices.