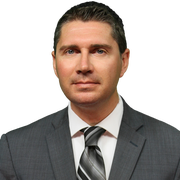 Mike Magnoli is a reporter for FOX 35, covering Brevard County.
Mike graduated cum laude from Marymount Manhattan College in New York City.
Originally from Connecticut, Mike has worked in lots of interesting places, most recently West Palm Beach and southern Palm Beach County as a reporter for WPEC.
His big stories have included Hurricane Michael, the pipe-bomb mailer, President Trump's visits to Florida, the school shootings in Newtown and Parkland.
Mike was recently honored by the Florida Associated Press for 'Breaking News' for his coverage of the shooting at the Fort Lauderdale Airport.
Mike's wife is a News Executive Producer, his dog is a Tibetan terrier named Sandie, and his cat is an all black Maine Coon named Prince.
The latest from Mike Magnoli
The United Launch Alliance (ULA) launched its Atlas V rocket on Thursday from Cape Canaveral. Some upcoming missions are in jeopardy or delayed due to coronavirus concerns.
Blood donations are down as the annoucement comes that Coronavirus is a pandemic.
Video shows a man beating up a homeless person who is clearly too weak to defend themselves.
A program that teaches Brevard County students to train shelter dogs in socialization skills needs help.
Cruise passengers told FOX 35 News that the cruise lines are sending frequent emails to them, emphasizing the need for diligent handwashing and warning guests that they can be denied access to the ship if they have coronavirus symptoms.
SpaceX, the new kid of the block space company, wants to show the DOD what Starlink satellites could do in a battle-zone.
NASA says pioneering black mathematician Katherine Johnson has died. She worked on NASA's early space missions and was portrayed in the film "Hidden Figures," about black female aerospace workers.