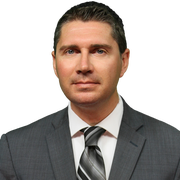 Mike Magnoli is a reporter for FOX 35, covering Brevard County.
Mike graduated cum laude from Marymount Manhattan College in New York City.
Originally from Connecticut, Mike has worked in lots of interesting places, most recently West Palm Beach and southern Palm Beach County as a reporter for WPEC.
His big stories have included Hurricane Michael, the pipe-bomb mailer, President Trump's visits to Florida, the school shootings in Newtown and Parkland.
Mike was recently honored by the Florida Associated Press for 'Breaking News' for his coverage of the shooting at the Fort Lauderdale Airport.
Mike's wife is a News Executive Producer, his dog is a Tibetan terrier named Sandie, and his cat is an all black Maine Coon named Prince.
The latest from Mike Magnoli
Gov. Ron DeSantis wants to expand Florida's stand your ground law that would allow citizens the right to defend properly, primarily as it relates to looting
Six digital billboards in Brevard County are giving folks a lot to talk about. They are memorial messages for Gregory Edwards, the soldier who died while in the custody of the Sheriff's Office back in 2018.
A FOX 35 Investigation into the animals that are smuggled across state lines and international borders, they deserve better, but in the case of a spider monkey, better is The Brevard County Zoo.
The surfer kept his wits about him and remembered what was right across the street from the beach.
2 cases or 32 cases among nursing home employees? The state database showed an alarming spike at The Life Care Center of Melbourne, but FOX 35 News discovered no one was checking the numbers nor following up about them.
A 16-year-old student was able to disrupt the Miami-Dade Public Schools e-learning system earlier this week and cause chaos across the district, including the platform virtual-only students have been using, called K12. Could the same type of attack happen in Central Florida?
The Cocoa Police Department says two women who are charged with second-degree murder allowed their tempers to flare and resorted to deadly violence on Tuesday night.