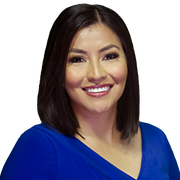 Vicki Karr joined the FOX 35 team in August 2019. A Florida girl born and raised, she is excited to be back in her home state.
Most recently, she worked in Tucson, Arizona where she covered major issues like immigration and the 2018 teacher strike. She also covered the life and legacy of the late Senator John McCain. Prior to Tucson, she worked in the Fort Myers market -- an area she's very familiar with. Her hometown is about 20 miles east of the city. 
Vicki earned her associate's degree while in high school before transferring to the University of Florida, where she majored in journalism. Go Gators!
Vicki enjoys talking to people and telling their stories. She is honored to report on topics that impact the people of Central Florida.
Vicki speaks Spanish fluently and is of Mexican descent. She's married to her high school sweetheart. Together they have two dogs: Bronco and Lily. 
During her time off, she enjoys exercising, reading, going to the beach and trying new restaurants with her husband. 
Please say hello if you see her out and about! 
The latest from Vicki Karr
The frustration over short-term rentals is no secret in Bethune Beach.
A rush to buy gas was seen at some Central Florida gas stations, though many were operating as usual.
The Daytona Tortugas are back in action. On Tuesday, the team was taking on the St. Lucie Mets at Jackie Robinson Ball Park in Daytona Beach.
The Daytona International Speedway said there will be no restrictions for the number of fans allowed at the Coke Zero 400 in late August.
An investigation continues into a fatal shooting Thursday at a Holly Hill business.
Looking for a job? Volusia County Beach Safety is recruiting for summer lifeguards.
A man is facing a string of charges after investigators say he led deputies on a two-county pursuit Monday afternoon. 
A staffing shortage that has affected businesses like restaurants and hotels is now hitting closer to home.
Daytona Beach police arrested a man accused of attacking a group of women in the tourist area Monday morning. Dylan Burst said he was on his way to work around 8:30 a.m. when he saw two women run onto the median of A1A near Main Street.