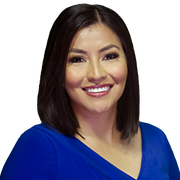 Vicki Karr joined the FOX 35 team in August 2019. A Florida girl born and raised, she is excited to be back in her home state.
Most recently, she worked in Tucson, Arizona where she covered major issues like immigration and the 2018 teacher strike. She also covered the life and legacy of the late Senator John McCain. Prior to Tucson, she worked in the Fort Myers market -- an area she's very familiar with. Her hometown is about 20 miles east of the city. 
Vicki earned her associate's degree while in high school before transferring to the University of Florida, where she majored in journalism. Go Gators!
Vicki enjoys talking to people and telling their stories. She is honored to report on topics that impact the people of Central Florida.
Vicki speaks Spanish fluently and is of Mexican descent. She's married to her high school sweetheart. Together they have two dogs: Bronco and Lily. 
During her time off, she enjoys exercising, reading, going to the beach and trying new restaurants with her husband. 
Please say hello if you see her out and about! 
The latest from Vicki Karr
Volusia County is investigating how an adult brought a weapon onto the campus of Atlantic High School, where a huge brawl broke out on Thursday.
Citizens and city leaders currently make up a task force called the 'Recycling Alternative Program.'
Authorities say a man has died after someone fired shots into a home on N. Franklin Street in Daytona Beach Wednesday evening.
The man killed the dog while trying to discipline him after coming home to a messy house.
A Lake Helen woman says she lost a pet pony in a dog mauling. She claims her neighbor's dog broke through a fence and attacked the pony, killing it instantly. Another animal was also injured, she says.
Authorities are searching for a gunman who fatally shot a teenager in Daytona Beach. Eric Gordon, 18, is described by his aunts as a loving kid.
The Food and Drug Administration is looking into the death of an Orlando man who doctors believe died from vaping. 
Dead fish were seen floating at an Ormond Beach park. The fish kill is in a pond at Ames Park on the Halifax River.