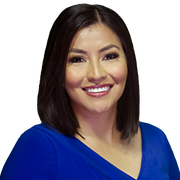 Vicki Karr joined the FOX 35 team in August 2019. A Florida girl born and raised, she is excited to be back in her home state.
Most recently, she worked in Tucson, Arizona where she covered major issues like immigration and the 2018 teacher strike. She also covered the life and legacy of the late Senator John McCain. Prior to Tucson, she worked in the Fort Myers market -- an area she's very familiar with. Her hometown is about 20 miles east of the city. 
Vicki earned her associate's degree while in high school before transferring to the University of Florida, where she majored in journalism. Go Gators!
Vicki enjoys talking to people and telling their stories. She is honored to report on topics that impact the people of Central Florida.
Vicki speaks Spanish fluently and is of Mexican descent. She's married to her high school sweetheart. Together they have two dogs: Bronco and Lily. 
During her time off, she enjoys exercising, reading, going to the beach and trying new restaurants with her husband. 
Please say hello if you see her out and about! 
The latest from Vicki Karr
The city of Port Orange said it's working with the owner of a vacant home on Brandon Lane that neighbors say has become a nightmare in recent weeks.
Police said that at least eight guitars were stolen, including ones signed by Bob Dylan, Bruce Springsteen, Eric Clapton, Paul McCartney, and U2.
Authorities say 16 animals -- including nine cats and seven dogs -- have been removed from an animal sanctuary in DeLand. Many of the animals are said to be highly "adoptable."
Two volunteer troopers with the Florida Highway Patrol are credited with locating a carjacking suspect who was asleep at the wheel.
Investigators say the suspect broke in around 7:30 p.m. Wednesday, taking off with three gaming consoles and other equipment.
A Palm Coast teacher charged with battery of a student made his first appearance Thursday morning. A family of a student who authorities say was grabbed and carried by a teacher out of a classroom is speaking out.
A principal at a Volusia County middle school was removed following complaints from coworkers and staff. The Volusia County School District confirmed to FOX 35 News Shantell Adkins was no longer the principal.
A DeLand man was arrested after deputies say he attacked a 77-year-old Uber driver Wednesday afternoon.
In September, Chloe Bella Carvalho's parents, Jairo and Nayara, learned their young daughter has leukemia. The young girl has been at Orlando Health Arnold Palmer Hospital for Children after receiving a bone marrow transplant.