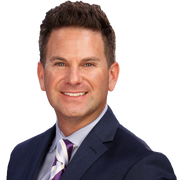 Jayme King
Chief Meteorologist
Jayme King is the morning Chief Meteorologist for FOX 35's high energy morning show "Good Day Orlando," airing Monday through Friday from 4 a.m. to 10 a.m.
It took 13 years and three television station stops in Rockford, Illinois; Savannah, Georgia; and WOFL's sister station KSAZ in Phoenix for the Florida native to finally return home. 
Jayme was born and raised in South Florida, graduating from Plantation High School in Broward County and then graduated from the University of North Florida in Jacksonville with a Communications Degree in 1998.
Jayme also completed his certification with Mississippi State's Broadcast Meteorology Program and earned a seal of approval from the National Weather Association.
Jayme is a multi-generational Floridian and that means the ocean is a huge part of his life.  He's an avid fisherman and boater, often pushing far offshore with his special lady in search of the Atlantic's biggest sport fish. If he's not on the boat, you can find Jayme with his two kids surfing in Central Florida's best waves. His surfing doesn't stop in Florida! Jayme enjoys surfing internationally as well, especially chasing Southwest swell down in Central America. 
Rest assured that Jayme and the FOX 35 Storm Team are always watching and tracking our Central Florida skies. The team is committed to keeping you and your family safe. Depend on us, when it matters the most! 
The latest from Jayme King