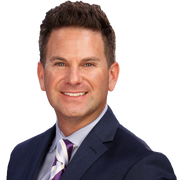 Jayme King
Chief Meteorologist
Jayme King is the morning Chief meteorologist for FOX 35's high energy morning show 'Good Day Orlando,' airing Monday through Friday from 4:00 a.m. to 10:00 a.m.
It took 13 years and three television station stops in Rockford, Illinois, Savannah, Georgia and WOFL's sister station KSAZ in Phoenix for the Florida native to finally return home. Jayme was born and raised in South Florida, graduating from Plantation High School and then graduated from the University of North Florida in Jacksonville with a Communications Degree in 1998.
Jayme also completed his certification with Mississippi State's Broadcast Meteorology Program and earned a seal of approval from the National Weather Association.
When he's not providing forecasts for 'Good Day Orlando,' Jayme enjoys hitting the outdoors, preferably on a lake or in the Atlantic. When it comes to fishing, you will find no one more passionate about the sport. It can be great bass and crappie fishing on a Saturday or action-packed snapper and Kingfish on Sunday. Truth is, he secretly wants to be his fishing idol and fellow Florida fisherman, Roland Martin, but that's a whole different story! If the surf's up, good luck finding him in one of Central Florida's packed line-ups, from Sebastian Inlet to New Smyrna Beach, especially on a north swell.
Jayme and his family are thrilled to be back in Florida, the land of sunshine and outdoor opportunity. He is especially excited to see his kids grow up with many of the natural resources the state has to offer. Now, if he could just convince his wife to hop on a surfboard!
The latest from Jayme King