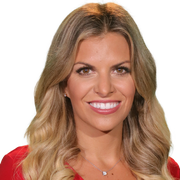 Christy Kern
FOX 35 Anchor/Reporter
Christy joined the FOX 35 Orlando team in August 2021 as a weekend co-anchor and reporter and is excited to call Florida home again.
Christy comes to FOX 35 after five years at WIVB in her hometown of Buffalo, NY, where she launched and solo anchored the first 4 p.m. newscast in the market. She also launched and served as the solo anchor for the station's 6:30 p.m. newscast. 
Christy is no stranger to Florida. She worked as an anchor and reporter at WZVN and WBBH in Fort Myers, Florida from 2013 to 2016. 
Before that, Christy worked as a reporter and fill-in anchor at WCTI in New Bern, North Carolina. She covered Eastern Carolina, from Greenville to the Crystal Coast, and the two Marine Corps bases in the area.
She started her career just two weeks after college graduation at WBKB in Alpena, Michigan. There, she worked as an anchor, reporter and producer. She also hosted the weekly talk show, Insights Into Northeast Michigan and even anchored the weather forecasts on the weekends!
Christy graduated Magna Cum Laude from St. Bonaventure University. Her broadcast experience began in college at the campus news station, SBU-TV. She was awarded the Koop Award, which is given to one senior who shows promise in the broadcast field.
From the time she was young, Christy enjoyed writing and telling stories. She took her first journalism class at Orchard Park High School and knew it was the right fit.
Christy's a Western New York native, originally from Orchard Park, New York. When she's not working, she enjoys spending time at the beach, cheering on the Buffalo Bills, and spending time with her husband and two cats. She's also a proud member of the Polish community and enjoys volunteering locally with organizations like Hospice.
Christy loves telling your stories and wants to hear from you. Email Christy. You can also find her on Twitter, Facebook, and Instagram.
The latest from Christy Kern