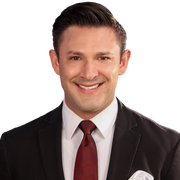 Robert Guaderrama
Reporter
Robert Guaderrama joined the FOX 35 team in March of 2019 as the 'Government and Finance' reporter.
Robert is no stranger to warm climate, as he is was born and raised in San Diego. He graduated from California State University, Fullerton with a Bachelor's Degree in Communication with an emphasis in Broadcast Journalism. Robert is also not a stranger of Disney, he performed for Disneyland in California for three years in shows and parades.
Robert comes to Orlando from Cincinnati, Ohio where he was a morning show reporter covering Midwest weather and breaking news. Prior to Ohio, Robert was the Morning Anchor of NBC El Paso, Texas and a General Assignment Reporter and Consumer Reporter at CBS in Midland/Odessa, Texas.
During his career, Robert's work has been recognized with several awards including an Emmy Award in 2018 for his coverage of a trial of an officer-involved shooting death. He also has won an Excellence in Journalism Award from the National Association of Hispanic Journalists in 2017 and two Texas Association of Press Broadcaster's Awards in 2015.
Robert strives to hold the powerful accountable, find the truth in stories and tell stories that make a real impact on people's lives.
Robert is thrilled to be back in warm weather and close to the attractions. In his spare time, you can find Robert working out or satisfying his foodie appetite.
The latest from Robert Guaderrama
The temporary exit is expected to be in place for a year. 
Many riders tweeted out that the ride was experiencing delays and were handed Fastpass tickets to come back later. Some even experienced issues while riding and were escorted off.
"I believe that we owe it to our children to empower them about the facts," she said.
A busy Black Friday at the Orlando Vineland Premium Outlets.
Central Florida is one of the top vacation destinations for the Thanksgiving holiday weekend. The holidays are a major boost for the economy, experts say.
A small train at the Central Florida Zoo in Sanford derailed, authorities say, sending passengers flying to the ground. At least two pregnant women were transported to a hospital. The train just passed an inspection by state officials less than a week ago.
A sewage spill dumped thousands of gallons of wastewater into Lake Formosa in Orlando.