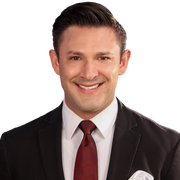 Robert Guaderrama
Reporter
Robert Guaderrama joined the FOX 35 team in March of 2019 as the 'Government and Finance' reporter.
Robert is no stranger to warm climate, as he is was born and raised in San Diego. He graduated from California State University, Fullerton with a Bachelor's Degree in Communication with an emphasis in Broadcast Journalism. Robert is also not a stranger of Disney, he performed for Disneyland in California for three years in shows and parades.
Robert comes to Orlando from Cincinnati, Ohio where he was a morning show reporter covering Midwest weather and breaking news. Prior to Ohio, Robert was the Morning Anchor of NBC El Paso, Texas and a General Assignment Reporter and Consumer Reporter at CBS in Midland/Odessa, Texas.
During his career, Robert's work has been recognized with several awards including an Emmy Award in 2018 for his coverage of a trial of an officer-involved shooting death. He also has won an Excellence in Journalism Award from the National Association of Hispanic Journalists in 2017 and two Texas Association of Press Broadcaster's Awards in 2015.
Robert strives to hold the powerful accountable, find the truth in stories and tell stories that make a real impact on people's lives.
Robert is thrilled to be back in warm weather and close to the attractions. In his spare time, you can find Robert working out or satisfying his foodie appetite.
The latest from Robert Guaderrama
4 Roots Foundation, by 4 Rivers Smokehouse, is planning to build a $30 million urban far, in Orlando.
The Orange County Convention Center will be hosting its biggest event since the coronavirus shutdown. Some 12,000 people will be attending a volleyball tournament.
The break on power bills for delinquent OUC customers is coming to an end. Local nonprofits are asking OUC to postpone resuming disconnections because of COVID-19.
Orlando's tourism industry not recovering as fast as many hoped. A spike in COVID-19 cases may be influencing people's travel plans, some analysts say. The industry may have to rely on local residents for a rebound.
Orlando builder Clayton Altman says the construction industry, like most others, has slowed tremendously because of the COVID-19 pandemic.
The UCF Rosen College of Hospitality Management has been ranked as the premier hospitality program in the country and one of the top programs of its kind in the world.
A data company has created a map that shows which communities may be more vulnerable to COVID-19.
Disney announced it is delaying the reopening of its California theme parks. Park officials in Florida have signaled that Walt Disney World will reopen as scheduled, though some are calling for delays. Disney World set to begin a phased reopening of theme parks July 11.