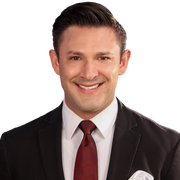 Robert Guaderrama
Reporter
Robert Guaderrama joined the FOX 35 team in March of 2019 as the 'Government and Finance' reporter.
Robert is no stranger to warm climate, as he is was born and raised in San Diego. He graduated from California State University, Fullerton with a Bachelor's Degree in Communication with an emphasis in Broadcast Journalism. Robert is also not a stranger of Disney, he performed for Disneyland in California for three years in shows and parades.
Robert comes to Orlando from Cincinnati, Ohio where he was a morning show reporter covering Midwest weather and breaking news. Prior to Ohio, Robert was the Morning Anchor of NBC El Paso, Texas and a General Assignment Reporter and Consumer Reporter at CBS in Midland/Odessa, Texas.
During his career, Robert's work has been recognized with several awards including an Emmy Award in 2018 for his coverage of a trial of an officer-involved shooting death. He also has won an Excellence in Journalism Award from the National Association of Hispanic Journalists in 2017 and two Texas Association of Press Broadcaster's Awards in 2015.
Robert strives to hold the powerful accountable, find the truth in stories and tell stories that make a real impact on people's lives.
Robert is thrilled to be back in warm weather and close to the attractions. In his spare time, you can find Robert working out or satisfying his foodie appetite.
The latest from Robert Guaderrama
Vice President Mike Pence stopped in Kissimmee for a campaign event. Earlier in the day, he was in Tampa.
Orange and Osceola county officials held a news conference ahead of 2020 election season to address measures to protect the process from cybercriminals.
Orlando's Downtown Arts District is planning an artistic courtyard as an extension of the CityArts gallery. They intend to transform an alley into a space for artistic expression.
Doctor Phillips Center for the Performing Arts looking to Orange County for more money to complete construction.
Thousands of teachers, parents and students clad in red descended on the Florida Capitol the day before the start of the 2020 legislative session, demanding that lawmakers steer more money toward public schools.
FOX 35 News got an exclusive look at the newest high-rise in Downtown Orlando, the SunTrust Plaza Tower.
An influx of Puerto Ricans is expected in Central Florida, following the earthquakes on the island.
A warm winter has been favorable for fire ants. That means the venomous ant colonies are growing larger than usual, multiplying right under our feet.
According to an arrest affidavit, Felix Garcia Madera, 50, was paid at least $10 per trip from the non-permitted taxis.