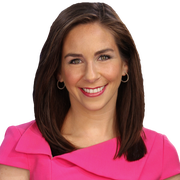 Lara Greenberg is an Edward R. Murrow and Emmy-winning journalist. She joined Fox 35 as a reporter in June 2018.
Lara grew up in New Jersey and is a proud graduate of Syracuse University – go orange!
Before moving to Orlando, Lara was a weekend anchor and reporter in Harrisburg, Pennsylvania. She spent three years there, covering news out of the Pennsylvania State Capitol and the city of Harrisburg. She also covered the trial of Pennsylvania's former Attorney General Kathleen Kane in Philadelphia and traveled to Baltimore to report on the Freddie Gray riots in 2015. But the most impactful story she reported on in Pennsylvania was her father's battle with Alzheimer's Disease. Her reports on the illness and the research to cure it earned her several awards, including an Edward R. Murrow Award, an Emmy and a national award from the Society of Professional Journalists. Lara has also reported in Scranton, Pennsylvania and Corning, New York
Over the years, she has become a big supporter of the Alzheimer's Association, raising money in her father's honor. She ran the New York City Marathon in his memory in 2017.
In her spare time, Lara likes to spend time with her husband, run, bake and read.
The latest from Lara Greenberg
A Central Florida man has invented a device that has been developed to sanitize pens at doctors' offices.
Deputies in Orange County arrested a student at a high school after the student was found to be in possession of a weapon, they say. It is the third incident in as many days in which law enforcement officers around the region have found weapons on different campuses.
Chris Tossas had veered off the road along Alafya Trail in Orange County around 4:30 a.m. on January 10. He was headed to work, but then found himself trapped in his car, which was up in flames. 
Now that Lucky's Market locations are closing across Florida, many consumers are seeking deals. Everything has been marked down by 25 percent.
FOX 35 News got a behind-the-scenes tour of construction happening on SeaWorld Orlando's next big roller coaster, Ice Breaker.
Proposed legislation in Tallahassee would require the conversion of pedestrian crosswalks from flashing yellow lights to red.
Police say Ryan Friend was riding his motorcycle down Nova Road when a car crossed Nova Road at Miles Drive, T-boning Friend. The driver was given a traffic citation for failure to yield to a vehicle in an intersection, but no criminal charges.
According to newly-released documents, authorities found Nicole Montalvo's human remains buried two to five feet into the ground.