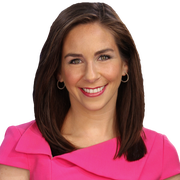 Lara Greenberg is an Edward R. Murrow and Emmy-winning journalist. She joined Fox 35 as a reporter in June 2018.
Lara grew up in New Jersey and is a proud graduate of Syracuse University – go orange!
Before moving to Orlando, Lara was a weekend anchor and reporter in Harrisburg, Pennsylvania. She spent three years there, covering news out of the Pennsylvania State Capitol and the city of Harrisburg. She also covered the trial of Pennsylvania's former Attorney General Kathleen Kane in Philadelphia and traveled to Baltimore to report on the Freddie Gray riots in 2015. But the most impactful story she reported on in Pennsylvania was her father's battle with Alzheimer's Disease. Her reports on the illness and the research to cure it earned her several awards, including an Edward R. Murrow Award, an Emmy and a national award from the Society of Professional Journalists. Lara has also reported in Scranton, Pennsylvania and Corning, New York
Over the years, she has become a big supporter of the Alzheimer's Association, raising money in her father's honor. She ran the New York City Marathon in his memory in 2017.
In her spare time, Lara likes to spend time with her husband, run, bake and read.
The latest from Lara Greenberg
A group of researchers and lead scientists at Harvard University have put together a new interactive map that breaks down the COVID-19 numbers across the world and the United States, all the way down to the county level.
A surge in COVID-19 testing is happening as coronavirus cases continue to jump in the Sunshine State. Nearly 3,300 new cases were reported Tuesday.
The State of Florida could be digging up thousands of septic tanks near a Central Florida treasure, hoping to clean things up and keep Wekiwa Springs crystal clear.
Body camera and cell phone video from 2015 show the struggle that happened between a homeless man, Terre Johnson, and Orlando Police Officer James Wilson.
Osceola County -- who has a mask mandate -- has a coronavirus positivity rate of 4.5 percent, compared to Orange County's 3.6 percent -- who does not have a mask mandate.
Florida set a new record for the number of new coronavirus cases recorded in a single day. More young people appear to be testing positive.
The rise of online shopping has been a big blow for brick and mortar retailers, but now Amazon is opening a 4-Star store in Orlando.