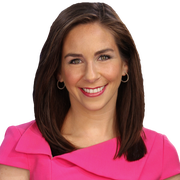 Lara Greenberg is an Edward R. Murrow and Emmy-winning journalist. She joined Fox 35 as a reporter in June 2018.
Lara grew up in New Jersey and is a proud graduate of Syracuse University – go orange!
Before moving to Orlando, Lara was a weekend anchor and reporter in Harrisburg, Pennsylvania. She spent three years there, covering news out of the Pennsylvania State Capitol and the city of Harrisburg. She also covered the trial of Pennsylvania's former Attorney General Kathleen Kane in Philadelphia and traveled to Baltimore to report on the Freddie Gray riots in 2015. But the most impactful story she reported on in Pennsylvania was her father's battle with Alzheimer's Disease. Her reports on the illness and the research to cure it earned her several awards, including an Edward R. Murrow Award, an Emmy and a national award from the Society of Professional Journalists. Lara has also reported in Scranton, Pennsylvania and Corning, New York
Over the years, she has become a big supporter of the Alzheimer's Association, raising money in her father's honor. She ran the New York City Marathon in his memory in 2017.
In her spare time, Lara likes to spend time with her husband, run, bake and read.
The latest from Lara Greenberg
A Central Florida college is studying how tracking wastewater to help control the spread of coronavirus.
Orlando Mayor Buddy Dyer says people will be allowed to have alcohol in the streets this Halloween, to allow for more social distancing during the COVID-19 pandemic.
Foreign actors are accused of interfering in the 2020 Election. Florida lawmakers are requesting more information about an FBI investigation revealing Iran and Russia are trying to disrupt voting.
Officials in two Florida counties are investigating claims of voter intimidation through unsolicited emails.
Deputies say that Christopher Dougherty, 37, gave another child a rifle and told her to be ready to shoot.
An order that reopens schools has an expiration date and if it's not extended, it could force all students back to remote learning.
Florida isn't waiving the requirement to take the SAT to get into college this year.
Some parents do not want their kids to wear masks, so they plan to sue schools, FOX 35 has learned. The parents have raised more than $11,000 on GoFundMe to cover legal fees for this lawsuit.
A 15-year-old boy was the victim of a random attack, after police said he was slashed by a knife-wielding man.