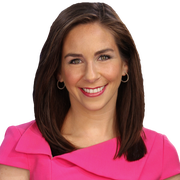 Lara Greenberg is an Edward R. Murrow and Emmy-winning journalist. She joined Fox 35 as a reporter in June 2018.
Lara grew up in New Jersey and is a proud graduate of Syracuse University – go orange!
Before moving to Orlando, Lara was a weekend anchor and reporter in Harrisburg, Pennsylvania. She spent three years there, covering news out of the Pennsylvania State Capitol and the city of Harrisburg. She also covered the trial of Pennsylvania's former Attorney General Kathleen Kane in Philadelphia and traveled to Baltimore to report on the Freddie Gray riots in 2015. But the most impactful story she reported on in Pennsylvania was her father's battle with Alzheimer's Disease. Her reports on the illness and the research to cure it earned her several awards, including an Edward R. Murrow Award, an Emmy and a national award from the Society of Professional Journalists. Lara has also reported in Scranton, Pennsylvania and Corning, New York
Over the years, she has become a big supporter of the Alzheimer's Association, raising money in her father's honor. She ran the New York City Marathon in his memory in 2017.
In her spare time, Lara likes to spend time with her husband, run, bake and read.
The latest from Lara Greenberg
A Florida teenager has died after contracting mononucleosis. The girl's family wants to warn others so they won't suffer the same loss.
For years, astronauts have conducted blood tests on themselves while at the International Space Station but the samples must be shipped back to earth for full analysis. A new device would change that.
The program has been in place since 1992 but this is the first time the tuitions have been fully funded.
An incident report states that a Sigma Chi pledge was "blindfolded and made to do cocaine in order to become initiated into the frat."
Scientists found that women who regularly used permanent hair dye in the year prior to enrolling in the study were 9% more likely than women who didn't use hair dye to develop breast cancer.
Some state lawmakers are wanting to crack down on animal abuse by giving veterinarians more authority. A new bill would require the vets to report cases of abuse.
Chris is training for his first full marathon, a weekend of Disney races in January where he'll run a 5K, a 10K, a half and full marathon over four days. That's a total of 48.6 miles.