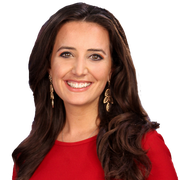 Kristin Giannas
Meteorologist/Traffic
Kristin Giannas is a meteorologist and traffic anchor for FOX 35's 'Good Day Orlando,' which airs Monday through Friday from 4:00 a.m. to 10 a.m.
Kristin grew up in Queens, New York and relocated to the Tampa Bay area with her family during high school. She graduated from the University of Florida with a degree in Telecommunications and News Broadcasting and a certificate in Climatology and Meteorology. She went on to earn a certificate in Operational Meteorology from Mississippi State University.
Kristin began her career as an associate producer at WCJB TV20 in Gainesville, FL before being promoted to a multimedia journalist. She then made the jump to Orlando, reporting for WKMG Local 6 and delivering weather forecasts for the weekend morning show.
In 2014, Kristin traveled to the Florida Panhandle and reported on a historic rainfall event that devastated Pensacola. Then in 2018, the Mount Dora Executive Women's Chamber invited Kristin to speak about 'The Power of the Positive,' which is about how a positive attitude can impact your career and help you reach your goals.
Kristin provided FOX 35 viewers with around-the-clock forecasts during major Hurricanes Michael, Irma and Matthew. These storms were so devastating that their names have been retired by the World Meteorological Organization. At the start of the 2019 Atlantic Hurricane Season, Kristin's article on the shortage of local rainfall data was featured in the Orlando Sentinel's 'Hurricane Survival Guide.'
Kristin is an avid reader, enjoys cooking, traveling and blogging. 
The latest from Kristin Giannas