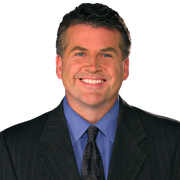 Bob is an award-winning journalist and a familiar face for Central Florida viewers.
Bob got his degree in Journalism from the University of Colorado.
His career in broadcasting has taken him across the country. In Oklahoma City, he covered an F-5 tornado as it tore through the heart of the city, while at the same time, pulling victims from the rubble. In Colorado Springs, he interviewed the early designers of the International Space Station before the first segment even blasted off from the Cape. He has also worked in small markets in California and Nebraska. After eight years at the CBS affiliate in Orlando, Bob came to FOX 35 in November of 2009.
Bob has covered every major event in Florida over the last 2 decades, including the devastating hurricanes of 2004, the Shuttle Columbia disaster, the historic presidential election of 2008, and the Pulse Nightclub shooting. He has also interviewed nearly every major player in local and statewide politics, including Former Governor Jeb Bush in the days immediately following 9/11.
Many Central Floridians know Bob from his work with so many local charities. He has emceed nearly every major event in town, including the Headdress Ball, Arts Alive in Seminole County and the UCP Gala. He has also served on the board for the Steinway Society of Central Florida, which makes instruments available for aspiring musicians.
Bob's first passion was music. He learned to play piano at the age of 18 and went on to get a music scholarship at the University of Colorado. Bob performed in dozens of musicals, including Evita, Sweeney Todd, and Grand Hotel. While here in Florida, Bob formed a rock band with former Mix 105.1 radio host Scott McKenzie. They called the band Simulcast and opened for Third Eye Blind, Five for Fighting, Collective Soul and Sara Bareilles.  The group is in hiatus but Bob continues to play with some of the band members, doing acoustic sets around town.
Bob married his beautiful wife Karen back in 1995. They have two wonderful children. Bob's daughter, Lucie, is attending the University of Central Florida and his son, Alden, will join the class of 2020 and head to college that fall.  With their dog Tucker, the Friers are thrilled to be able to continue making Central Florida home.