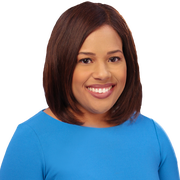 Sydney Cameron is an award-winning journalist who joined the FOX 35 news team in November 2018.
Sydney received a broadcast journalism degree from American University in 2008. After graduation Sydney moved overseas to Auckland, New Zealand where she worked as a volunteer associate producer and editor for a community television series.
Before moving to Orlando, Sydney was a morning anchor and reporter in Johnson City, Tennessee. During her time in the Tri-Cities, she shined a light on the opioid epidemic and the people it impacts. She won a Tennessee Media & Editors Associated Press award for her in-depth coverage about a dangerous illicit drug called fentanyl and its impact on people in the community and law enforcement. She was also recognized as one of the best reporters in the state by The Associated Press.
Sydney also worked as a reporter and anchor in Richmond, Virginia and Columbus, Georgia. She covered regional and national stories including the corruption trial of former Virginia Governor Bob McDonnell and the poisoning of the Toomer's Corner oak trees at Auburn University.
Sydney loves discovering new places with her husband and young son, reading and writing poetry in her free time. She is a proud member of Zeta Phi Beta Sorority, Inc.
Sydney is eager to be a voice for the community and address concerns that matter to you. Please feel free to reach out to her if you have a story idea.
The latest from Sydney Cameron
The training ground covers 20 acres and has four training fields and state-of-the-art facilities for players.
SCFD responded to a structure fire in the 200 block of Georgetown Drive around 1 a.m. Friday.
The Osceola County Sheriff's Office said Anthony Todt, 44, confessed to killing his wife and three children.
Pet Alliance of Greater Orlando took in 28 dogs over the weekend and are currently treating and caring for them while they wait to be adopted
The Walt Disney World Marathon Weekend brought more than 57,000 runners and spectators to town for four races.
Police are investigating a deadly crash in Orlando which claimed the lives of two women.
The only exception to the day off would be if Halloween falls on a Friday or Saturday.
People who took the plunge said even though the water temperature was 68 degrees they still felt the chill.
One woman told FOX 35 News burglars stole the $1,600 she had hidden inside her car for rent.