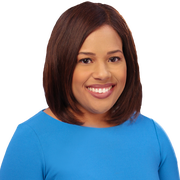 Sydney Cameron is an award-winning journalist who joined the FOX 35 news team in November 2018.
Sydney received a broadcast journalism degree from American University in 2008. After graduation Sydney moved overseas to Auckland, New Zealand where she worked as a volunteer associate producer and editor for a community television series.
Before moving to Orlando, Sydney was a morning anchor and reporter in Johnson City, Tennessee. During her time in the Tri-Cities, she shined a light on the opioid epidemic and the people it impacts. She won a Tennessee Media & Editors Associated Press award for her in-depth coverage about a dangerous illicit drug called fentanyl and its impact on people in the community and law enforcement. She was also recognized as one of the best reporters in the state by The Associated Press.
Sydney also worked as a reporter and anchor in Richmond, Virginia and Columbus, Georgia. She covered regional and national stories including the corruption trial of former Virginia Governor Bob McDonnell and the poisoning of the Toomer's Corner oak trees at Auburn University.
Sydney loves discovering new places with her husband and young son, reading and writing poetry in her free time. She is a proud member of Zeta Phi Beta Sorority, Inc.
Sydney is eager to be a voice for the community and address concerns that matter to you. Please feel free to reach out to her if you have a story idea.
The latest from Sydney Cameron
Officials are working on a strategic plan for how to move forward and keep the area safe while also preserving the historic building in the 900 block of Bentley Street.
Angel Rivera also filed a motion this week to be released on his own recognizance on a murder charge.
The new temporary exit ramp will be in place for about a year and will allow crews to reconstruct the westbound exit to Colonial Drive.
Nicole Montalvo's loved ones will gather at St. Thomas Aquinas Catholic Church in St. Cloud at 11 a.m.
Wal-Mart Black Friday deals start in-store at 6 p.m. on Thanksgiving Day but some deals were made available online starting at 10 p.m. Wednesday.
FHP troopers will be looking for aggressive drivers and people driving under the influence.
A Florida lawmaker has proposed legislation that would end discrimination based on natural hairstyles. Sen. Randolph Bracy III, District 11, wants to get the "Creating a Respectful and Open World for Natural hair", or CROWN Act, passed in the 2020 legislative session.
Robert Hayes is charged with three counts of first-degree murder with a firearm in connection with the killings of three women more than a decade ago.
Deputies said they are "hot on the trail" of two male suspects.