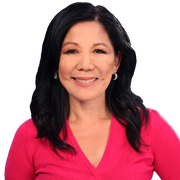 Valerie Boey joined the FOX 35 news team in 2008. This veteran reporter is an AP award-winning, spot-news journalist and multimedia specialist.
Valerie's career started at WINK (CBS Ft. Myers). She was the Collier County Bureau Chief in Naples. Before that, she worked as an assignment editor and associate producer. She graduated from New York University. While attending school, Valerie interned at NBC Nightly News in New York.
Prior to FOX 35, Valerie worked at the CBS affiliate in the Tampa/St Petersburg area. As a political correspondent, she started up the Tallahassee Bureau for WTSP (CBS Tampa) and WTLV (NBC Jacksonville). Valerie also wrote for several newspapers, such as Florida Today and the Fort Myers News Press. Her work expanded to all Gannett owned stations and websites. She eventually moved to the main newsroom in Tampa to work closer with her colleagues.
Valerie was born and raised in New York, then moved to Illinois in high school. As a Chinese American, Valerie takes pride in her Asian heritage. She is a leader in the Asian American Journalists Association's Florida Chapter and on the Board of the Florida Associated Press. She enjoys mentoring journalism students and supports several charities.
This journalist is also an author. Valerie is in the process of working on a children's book and getting it published. During her free time, Valerie enjoys traveling overseas and in the states. She likes kickboxing and jogging. Trying out different restaurants and going to concerts is also a favorite hobby.
The latest from Valerie Boey
An aspiring model was killed when someone fired shots into a car in which she was riding. Orlando police investigators on Friday released new video which they say shows a truck that has been identified as the source of the gunfire.
Latino Leadership says they need new tents donated for people who have lost homes to the earthquake.
Victim was aspiring model. She was heading home after work, when someone shot into the car she was riding in.
Orange County deputies say the suspect left the victim battered and bloody.
Nick Gordon, the ex-fiancé of Bobbi Kristina Brown, has died of a suspected drug overdose. Brown, daughter of Whitney Houston, passed away of a suspected drug overdose in 2015.
A mother dropped her daughter off at Millennium Middle School in the morning, only to pick her up at a hospital in the afternoon.
Zimmerman is seeking $100 million in civil damages, abuse of civil process, conspiracy, and alleging defamation.
A bear cub remains in a tree for the 5th day. Tigers moved so he will come down.
The magazines were found inside an infant tox boy, which was made to look as if it was factory sealed.