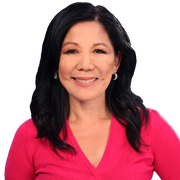 Valerie Boey joined the FOX 35 news team in 2008. This veteran reporter is an AP award-winning, spot-news journalist and multimedia specialist.
Valerie's career started at WINK (CBS Ft. Myers). She was the Collier County Bureau Chief in Naples. Before that, she worked as an assignment editor and associate producer. She graduated from New York University. While attending school, Valerie interned at NBC Nightly News in New York.
Prior to FOX 35, Valerie worked at the CBS affiliate in the Tampa/St Petersburg area. As a political correspondent, she started up the Tallahassee Bureau for WTSP (CBS Tampa) and WTLV (NBC Jacksonville). Valerie also wrote for several newspapers, such as Florida Today and the Fort Myers News Press. Her work expanded to all Gannett owned stations and websites. She eventually moved to the main newsroom in Tampa to work closer with her colleagues.
Valerie was born and raised in New York, then moved to Illinois in high school. As a Chinese American, Valerie takes pride in her Asian heritage. She is a leader in the Asian American Journalists Association's Florida Chapter and on the Board of the Florida Associated Press. She enjoys mentoring journalism students and supports several charities.
This journalist is also an author. Valerie is in the process of working on a children's book and getting it published. During her free time, Valerie enjoys traveling overseas and in the states. She likes kickboxing and jogging. Trying out different restaurants and going to concerts is also a favorite hobby.
The latest from Valerie Boey