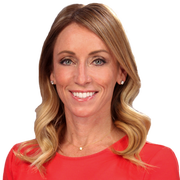 Holly Bristow is an award-winning journalist who has called Central Florida home, again, for the last 12 years.
Holly is a native Floridian, born in Fort Lauderdale, spending her teenage years in Satellite Beach where she graduated from Satellite High School.
Holly's interest in news came early in life. Her mom always had the TODAY SHOW on while she was getting ready for school in the morning. That's when Holly set her sights on broadcast journalism.
She graduated from the University of Florida with a degree in telecommunications. She got hands on experience reporting for WUFT-TV.  Holly also anchored the local edition cut-ins for Cox cable, which aired in the Gainesville area on CNN Headline News. After graduating she started her career at WTOC-TV in Savannah, Georgia before moving on to WSOC-TV in Charlotte, North Carolina.
Since joining FOX 35 News in July 2007, Holly has lead The News Station's coverage on the biggest local stories: from the disappearance of Caylee Anthony and prosecution of Casey Anthony, to the death of Trayvon Martin and the trial of George Zimmerman.  She developed such good sources on both cases that FOX News Channel regularly called on her to enhance their coverage.
Holly is multi-talented. She spent Orlando City Soccer Club's inaugural MLS season serving as their official sideline reporter. She is the first to fill-in anchoring FOX 35's SportsZone. She enjoys filling in on the news desk as well.
Holly loves staying active. She says working out before work in the morning helps keep her on an even keel. On her days off, she enjoys spending her spare time on the beach reading a good book or boating with family and friends. You will also find her in the stands cheering on Orlando City, the Orlando Pride, the Florida Gators and the Orlando Magic. Holly loves shopping, traveling, and spending time with her husband, step-daughter and their new puppy.
The latest from Holly Bristow
The Osceola County Supervisor of Elections has made it easy for voters to save time and vote efficiently. Voters can log onto a county website and find voting location and wait times.
A Volusia County student is suing his school after he says he was punished for a display showing support for President Donald Trump.
Election Day is just two weeks away. Authorities in Brevard County are investigating a report that a woman was attacked while out canvassing.
Systematic Home Staging is now the largest home staging company in the United States, started by a Central Florida teenager with the money he had from selling his dog walking business.
As new coronavirus cases in the state surge, some schools are concerned about containing the spread of the virus. This comes as authorities at Lake Nona High School recently learned of a planned and unauthorized homecoming event, which has since been canceled.
A political mailer is sparking controversy in Seminole County over concerns about an ad for The United West group, which has been identified as a hate group by the Southern Poverty Law Center and CAIR Florida.
A Volusia County couple on their honeymoon were killed in a plane while returning to Florida from Colorado.
He says no one had an issue with his "Black Lives Matter" backpack until Thursday when a teacher stopped him and made an issue of it.