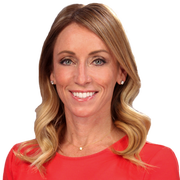 Holly Bristow is an award-winning journalist who has called Central Florida home, again, for the last 12 years.
Holly is a native Floridian, born in Fort Lauderdale, spending her teenage years in Satellite Beach where she graduated from Satellite High School.
Holly's interest in news came early in life. Her mom always had the "Today Show" on while she was getting ready for school in the morning. That's when Holly set her sights on broadcast journalism.
She graduated from the University of Florida with a degree in telecommunications. She got hands on experience reporting for WUFT-TV.  Holly also anchored the local edition cut-ins for Cox cable, which aired in the Gainesville area on CNN Headline News. After graduating she started her career at WTOC-TV in Savannah, Georgia before moving on to WSOC-TV in Charlotte, North Carolina.
Since joining FOX 35 News in July 2007, Holly has lead The News Station's coverage on the biggest local stories: from the disappearance of Caylee Anthony and prosecution of Casey Anthony, to the death of Trayvon Martin and the trial of George Zimmerman.  She developed such good sources on both cases that FOX News Channel regularly called on her to enhance their coverage.
Holly is multi-talented. She spent Orlando City Soccer Club's inaugural MLS season serving as their official sideline reporter. She is the first to fill-in anchoring FOX 35's SportsZone. She enjoys filling in on the news desk as well.
Holly loves staying active. She says working out before work in the morning helps keep her on an even keel. On her days off, she enjoys spending her spare time on the beach reading a good book or boating with family and friends. You will also find her in the stands cheering on Orlando City, the Orlando Pride, the Florida Gators and the Orlando Magic. Holly loves shopping, traveling, and spending time with her husband, step-daughter and their new puppy.
The latest from Holly Bristow
The day after a helicopter crash-landed in Lake Apopka, a second helicopter that seemingly crash-landed was also found in the lake.
Seminole County Sheriff's deputies released body camera video showing the scene as investigators responded to reports of guests being drugged at a Longwood wedding reception February 19. 
Neal Pittard, 43, is being held at the Seminole County Jail without bond.  Investigators say he held the manager of the Hungry Howie's Pizza in Altamonte Springs hostage for more than seven hours on Monday night while negotiators tried to work with him. 
The lights are off at the Orlando Free Fall Drop Tower ride. It's dark and will remain shut down as the investigation continues. State officials say the death of a 14-year-old boy is blamed on operator error.
The Orange County Sheriff's Office is concerned that there could be more children who may have interacted with a man who allegedly tried to kidnap a kid on Monday in Orlando who was on his way to school.
Anthony Todt has pleaded not guilty to murder charges for the deaths of his wife and their 3 kids more than two years ago.
Florida State Senator Linda Stewart is keeping a close eye on the investigation into how 14-year-old Tyre Sampson fell to his death from Orlando FreeFall, the drop tower amusement ride at ICON Park. 
The entertainment company that opened Orlando FreeFall – the drop tower ride at ICON Park where a teenager fell off and died last week – and Orlando Slingshot, also owns a handful of other attractions in the state.
Forensic inspectors from Explico Engineering out of Michigan spent hours Tuesday afternoon taking a close look at the Orlando FreeFall ride at ICON Park, at times using a laser scanner. FOX 35 News asked two ride safety experts to take a look at a video recorded on the evening of the deadly fall.