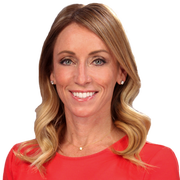 Holly Bristow is an award-winning journalist who has called Central Florida home, again, for the last 12 years.
Holly is a native Floridian, born in Fort Lauderdale, spending her teenage years in Satellite Beach where she graduated from Satellite High School.
Holly's interest in news came early in life. Her mom always had the TODAY SHOW on while she was getting ready for school in the morning. That's when Holly set her sights on broadcast journalism.
She graduated from the University of Florida with a degree in telecommunications. She got hands on experience reporting for WUFT-TV.  Holly also anchored the local edition cut-ins for Cox cable, which aired in the Gainesville area on CNN Headline News. After graduating she started her career at WTOC-TV in Savannah, Georgia before moving on to WSOC-TV in Charlotte, North Carolina.
Since joining FOX 35 News in July 2007, Holly has lead The News Station's coverage on the biggest local stories: from the disappearance of Caylee Anthony and prosecution of Casey Anthony, to the death of Trayvon Martin and the trial of George Zimmerman.  She developed such good sources on both cases that FOX News Channel regularly called on her to enhance their coverage.
Holly is multi-talented. She spent Orlando City Soccer Club's inaugural MLS season serving as their official sideline reporter. She is the first to fill-in anchoring FOX 35's SportsZone. She enjoys filling in on the news desk as well.
Holly loves staying active. She says working out before work in the morning helps keep her on an even keel. On her days off, she enjoys spending her spare time on the beach reading a good book or boating with family and friends. You will also find her in the stands cheering on Orlando City, the Orlando Pride, the Florida Gators and the Orlando Magic. Holly loves shopping, traveling, and spending time with her husband, step-daughter and their new puppy.
The latest from Holly Bristow
One man from Canada told FOX 35 News that he had packed his Kobe Bryant jersey for his trip to Orlando. "I have a ton of other jerseys at home too. I really don't know why I did it. That's surreal," he said.
U.S. Rep. Darren Soto is seeking answers from the Transportation Security Administration after an unaccompanied 15-year-old teenager with autism was able to get through a security checkpoint.
Jacqueline Chalifoux is finally getting justice. On August 4, 2016, her 88-year-old father, Theodore, was driving down the Florida Turnpike when he was rear-ended by a hit-and-run driver.  
Authorities in Volusia County say a body recovered in the intercoastal waterway in Edgewater has been identified as a suspect who was sought earlier in the morning.
A trooper with the Florida Highway Patrol was seriously injured when investigators said a driver who failed to observe the state's "move over" law slammed into his cruiser.
A chiropractor is accused of sexually assaulting a 95-year-old woman with dementia at an assisted living center.
Sade Subbs was reported missing on Friday morning and later located at the Orlando International Airport.
Amazon's Alexa device is being credited with notifying a family of a suspected theft in progress. A family across the country checked in on an aging relative at an assisted living facility and noticed a stranger in his room.