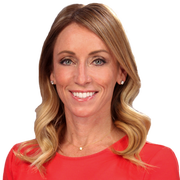 Holly Bristow is an award-winning journalist who has called Central Florida home, again, for the last 12 years.
Holly is a native Floridian, born in Fort Lauderdale, spending her teenage years in Satellite Beach where she graduated from Satellite High School.
Holly's interest in news came early in life. Her mom always had the TODAY SHOW on while she was getting ready for school in the morning. That's when Holly set her sights on broadcast journalism.
She graduated from the University of Florida with a degree in telecommunications. She got hands on experience reporting for WUFT-TV.  Holly also anchored the local edition cut-ins for Cox cable, which aired in the Gainesville area on CNN Headline News. After graduating she started her career at WTOC-TV in Savannah, Georgia before moving on to WSOC-TV in Charlotte, North Carolina.
Since joining FOX 35 News in July 2007, Holly has lead The News Station's coverage on the biggest local stories: from the disappearance of Caylee Anthony and prosecution of Casey Anthony, to the death of Trayvon Martin and the trial of George Zimmerman.  She developed such good sources on both cases that FOX News Channel regularly called on her to enhance their coverage.
Holly is multi-talented. She spent Orlando City Soccer Club's inaugural MLS season serving as their official sideline reporter. She is the first to fill-in anchoring FOX 35's SportsZone. She enjoys filling in on the news desk as well.
Holly loves staying active. She says working out before work in the morning helps keep her on an even keel. On her days off, she enjoys spending her spare time on the beach reading a good book or boating with family and friends. You will also find her in the stands cheering on Orlando City, the Orlando Pride, the Florida Gators and the Orlando Magic. Holly loves shopping, traveling, and spending time with her husband, step-daughter and their new puppy.
The latest from Holly Bristow
Businesses around Downtown Orlando have had to permanently close due to the financial impacts of the coronavirus pandemic. Many say they will not be able to survive a second lockdown should that be necessary.
A woman is accused of plotting her stepfather's murder. Authorities say Myesha Williams paid a boyfriend to kill her stepfather over an issue involving money.
Health officials warn Fourth of July gatherings could cause explosion in COVID-19 numbers
Florida banned alcohol consumption at its bars Friday after its daily confirmed coronavirus cases neared 9,000, a new record that is almost double the previous mark set just two days ago.
Universal is laying off an undisclosed number of employees just weeks after reopening.
A popular bar near the University of Central Florida has had its liquor license suspended due to coronavirus safety violations, the state says.
All was quiet at a home on Shadow Hill Drive in Fruitland Park on Monday. A blown-out window is the only sign of what happened in the normally quiet residential road early Sunday morning.
This year on the 155th anniversary of Juneteenth, Rep. Thompson recognizes the death of George Floyd is bringing to light the injustices the black community still experiences.  
Seminole County gave FOX 35 Orlando countywide numbers, showing that 91 people tested positive for COVID-19 in May. So far in June, 254 people new people have tested positive for the virus.